Was It Worth It? Sulit Ba?: The Mini Cooper John Cooper Works Hatch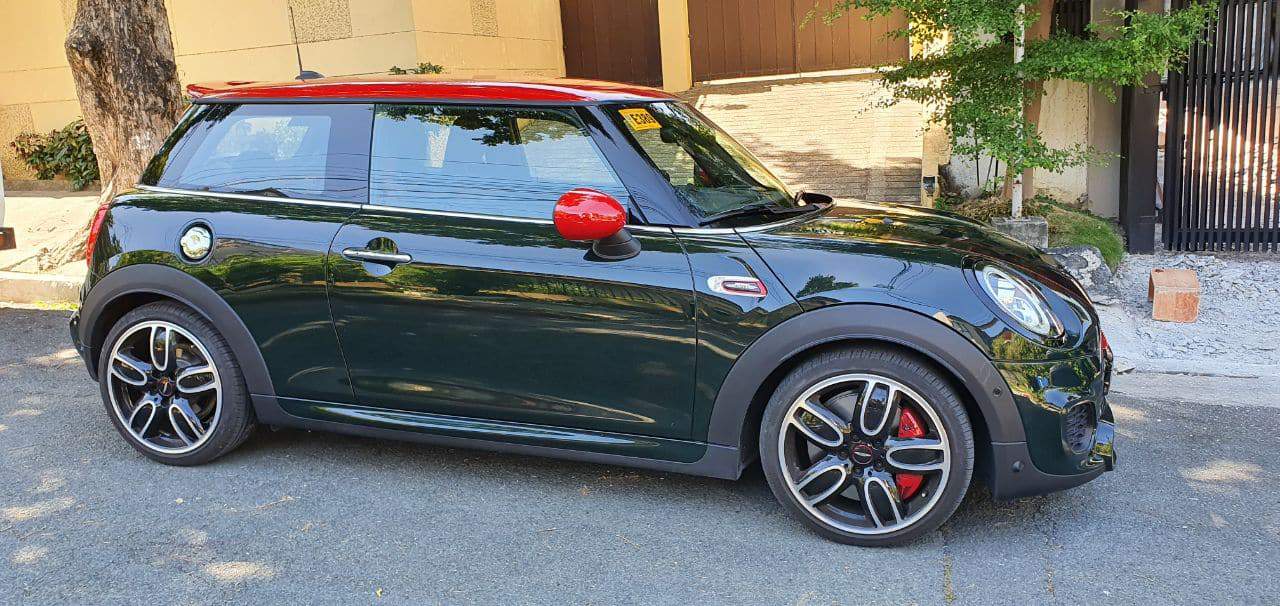 I thought the MINI Countryman was fun.  I'm a rather tall and hefty person and I thought if I ever bought a MINI it would have to be the bigger version of this status symbol.  But then I saw the John Cooper Works (JCW) hatch and I couldn't take my eyes off it and it now seems I've changed my mind about the true MINIs.  To hell with space, MINI Coopers are exactly that – small and nimble cars but the JCW is the MINI on steroids.  At first appearance the unit I had was dark green with red trims. That meant a red rooftop, red side-mirrors, red stripes on the hood and front grille and finally, red rear lights contrasted on a deep green body and accented by black 17" rims. The JCW is meant to race and it seems the designers & engineers of MINI let loose with this current model allowing themselves a freedom of expression not normally seen in previous MINIs.  I mean, who would even think of putting green and red together in a car unless you're Santa Claus? And yet the end-result was such a handsome stunner in and out, did I say it was good-looking?  The interior was black leather with red stitching much like regular racing visuals. On the dashboard in front of the passenger seat was the British flag proudly changing colors.  The dashboard had the typical MINI circular touch screen panel that offered various functions including blue-tooth connectivity, vehicle information and different media modes.  Handsome was an understatement.
The 2020 Mini Cooper JCW is powered by a turbocharged 2.0-liter four-cylinder engine that produces 228 horsepower and 236 lb-ft of torque. An eight-speed automatic transmission sends power to the front wheels. In trial numbers, this little one went from 0 to 60kph in 6 seconds.  Relative to the standard MINIs, the JCW Hatch has features such as a sports-tuned suspension, electric locking differential and Brembo brakes all of which combine to help this model deliver great handling and precision.
As soon as I started to make the JCW move I had to floor the pedal once the road cleared and the power was immediately felt.  Acceleration in this small body was easy and the power of 228 horses was awesome!  Ultra-sensitive steering was a treat when doing quick turns and maneuvers.  The thing about hatches is that they may not match your supercars but they are super fun and once I hit 120kph (easily) I noticed how rock-solid this vehicle was despite its tiny frame.  So the JCW Hatch is strong, has a high-class cabin, endless personalization, is extremely handsome, what's not to like?
For one, there is no space as the rear seats are really more for 2 kids and the boot space fits your purse.  Seriously though, it's meant to race not carry luggage so space wasn't priority in designing this hatch.  Second, as is expected from a small hatch, suspension isn't its best feature because it's so close to the ground.  A few potholes along your path and you instantly feel the pain on the car.  Having said that, maneuvering humps and potholes is easy given the light weight of the JCW hatch.  To summarize and as a friend mentioned, this car just makes you smile once your behind its wheel.  Go check it out, its price is the same as the Countryman S at Php 3,850,000 but for so many small reasons, it's totally worth it.
Check it out on cars.sulit.ph/mini-cooper/
Inquire with Michelle Raymundo
Certified MINI Sales Consultant
Mobile: 0920-294-2327 / 0905-413-6373
Email: [email protected]